Journals are a tool that people in the wizarding community use to communicate with each other. They are enchanted so that whatever is written in ones own journal may be read by anyone else in their own journal.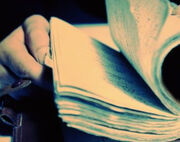 Using the Journals
Edit
The journals are designed so that they can be used without magic or the use of a wand. A normal entry in a journal will be able to be read by anyone else who also has a journal.
Privacy Filters
Edit
It is possible to filter an entry, or part of an entry to only be read by oneself or a specific person. To do this, one need only write 'Private' or 'Private to' as a prefix to that entry or section. This feature comes standard with the journal, and might be broken by an experienced hex-breaker.
If you have a wand, you are able to charm or hex your journal to have stronger privacy than the standard filter.
Although the journal is a tool primarily used for ease of gaming, what characters write can have consequences. People must be aware that what they write might be read by their superiors, or people with the power to punish too much independant thinking.
Examples of in-character journal plots
Edit